In a semi-recent interview with the Washington Post, George Lucas confessed that he has avoided the Internet for 15 years much like our dear pal (but also maybe child molester so not that dear of a pal), Woody Allen.  According to him, this avoidance is partially due to an attempt to avoid negative feedback about famous franchises like Star Wars and Indiana Jones: He claims he stays off Facebook, Twitter, and email in an attempt to hide from angry fans. I can't help but wonder, though, how does he get any work done without use of email or Google Drive? Is he still using a codex? What is a codex?
I understand the need to disconnect from all the extra stuff. (Or, I would understand if I didn't NEED to know what color Kylie Jenner's hair is at any given time of the day.) But, does George Lucas understand how much Star Wars and Indiana Jones Internet gold he is missing out on every day? If not, I present this, a list of seven example of online fan-love he is missing out on, as a plea to George Lucas to reconsider the Internet. Unfortunately he doesn't use the Internet so he will never see it… but maybe someone can write it out with an ink quill and attach the list to carrier pigeon? We'll figure something out.
1. Handmade Gifts On Etsy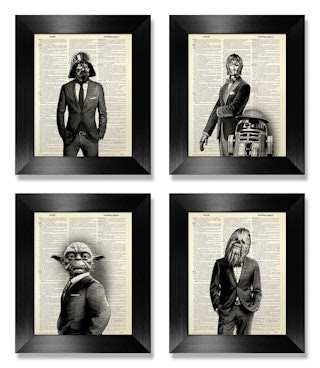 Black White Art Deco Posters, $45, Etsy.com
How great would this homemade art look in the study of George Lucas's beautiful California ranch? It says "I read" and "I created some of the greatest characters in movie history" in four breathtaking images. Too bad George Lucas can't buy this, because he doesn't use the internet and therefore Etsy. On an unrelated note, is it wrong to thing that Darth Vader looks kinda sexy in this print?
2. The Wonderful Memes

Once upon a time, we lived in a world with no internet and therefore no memes. Thank The G-ddess that's not the world we live in anymore. George, come join the world again!
3. Joke Twitter Accounts
Beginning to plan my run for President of the states that are united as a member of the party that is green I am. #Yoda2020

— Yoda (@yoda) January 27, 2016
Hey George, sure, Twitter might have a lot of trolls and all around negativity. Some of Twitter is definitely on the "Dark Side", if you will. But on the other hand, some of Twitter is hilarious! Like the above-mention Twitter account  of @Yoda, which may or may not be the real Yoda tweeting. Because Yoda is real. At least in our hearts.
4. Pictures of Storm Troopers Doing Various Tasks
Teen creates epic montage of Stormtroopers putting up his Christmas tree https://t.co/JBTivx7D1xpic.twitter.com/qoPOMQ9bfi — Yahoo (@Yahoo) December 2, 2015
Every once in a while someone creates a series of images with figurine storm troopers doing various task. It is literally delightful every time. This set of images featuring Storm Troopers setting up a Christmas tree is brought to you by Kyle Shearrer via Reddit. Thanks Reddit. Thanks Kyle!
5. Fan Fiction Websites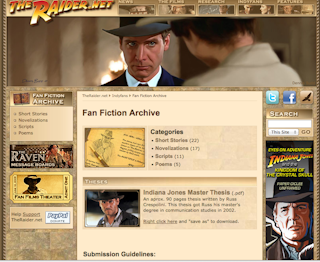 George, this is a WHOLE WEBSITE dedicated to fan fiction of YOUR franchise. Doesn't that make you feel good? Doesn't that make you want to dip your little toes back in the deep, caressing waters of the internet? Personally I can't wait to read some Shortround-themed poetry at TheRaider.Net!
6. Star Wars-Themed Music
George, did you know that kids who grew up with your movies are now writing songs that have Star Wars themes? You should be so proud of yourself! Are you proud of yourself? Give some of these songs a listen sometime, buddy. You can listen to "The Force" a song by SuperDuperKyle on Soundcloud to start out and test the waters, but there are more out there you just have to use Google (which is a search engine, a term I'm not sure if you are familiar with)
7. The GIFS
via GIPHY
Alright so Georgey, buddy, there's this thing called a GIF. It's a bitmap image format that is easily sharable. No one knows how to correctly pronounce it. Now that I've given you a little background let me explain: you are missing out on SO MANY GREAT GIFS in praise of your work. I chose this one specifically because it portrays my favorite Nazi death scene in any movie (followed swiftly by the movie theater Nazi massacre in Inglourious Basterds) Kudos for that George, you really are great.
Now George, just get back on the WWW. and you will be THE GREATEST. I mean, besides all the other directors and producers out there who also don't suck. I just don't really want to offend anyone, let's be real. But you are great. I mean besides your work on the prequels, which we just won't talk about. Ever. Again. Please. Thanks.
Images: Tumblr/geekybasket, Giphy